A fall chill has settled in across the eastern half of the U.S., with more than 167 million Americans feeling below-average temperatures on Tuesday.
The chill comes in the wake of a coast-to-coast storm that moved away from the U.S. on Sunday.
Cold mornings expected from the Plains to East Coast
The FOX Forecast Center says morning low temperatures on Tuesday and Wednesday will dip into the 40s from the Plains to the East Coast, with the lone exception being along the immediate Gulf Coast.
Morning low temperatures won't be quite as cool on Thursday and Friday, with most locations dropping into the 50s.
Independence, Kansas, dropped into the mid-30s on Tuesday morning, and with temperatures dropping to near freezing in many spots of the Plains, the National Weather Service issued Frost Advisories from northern Missouri through eastern Kansas, northern Oklahoma and extreme northwestern Arkansas.
Those were allowed to expire late Tuesday morning.
And for cities like Dallas, Austin, Baton Rouge, Louisiana, Montgomery, Alabama and Atlanta, highs in the 70s with lows in the low 50s are the coldest temps since March or April.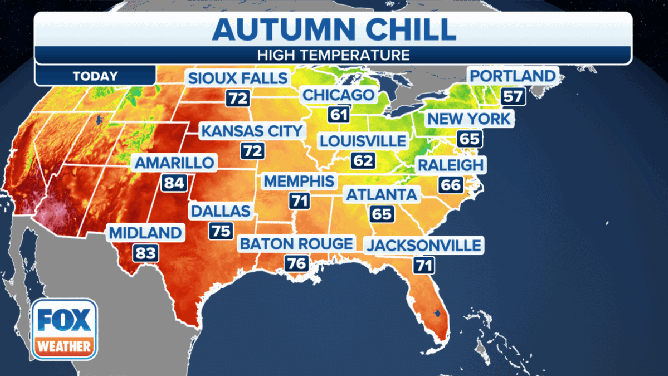 That sticky, humid air feeling is non-existent, with dew points in the 30s and 40s, which will give the crisp feel that many people enjoy during fall.
Temperatures are expected to rise to near or slightly above average at the end of the week before another coastal storm could threaten the East Coast.
Source: Fox Weather