The Fourth of July can be a real scorcher in cities across the U.S., but that doesn't stop Americans from celebrating by playing with fire. From fireworks and sparklers to grills and campfires, the day is a good reminder of the power that comes from harnessing the flame. "Without it, of course, we would never have achieved civilisation in the first place," The Guardian observed in 2014, after the first blaze of the Glasgow School of Architecture in Scotland. It's always been a two-way street: The invention of the hearth brought a safer way to keep warm indoors, but great fires have also wiped out entire cities in a matter of hours.
Even now that we can better prevent those kinds of infernos, they still invisibly shape how we live. As that same story observes, "the interplay between the need for free space and its restriction for safety exerts a subtle but major force on the form and structure of our cities as a whole." That interplay turns inside-out during summer, where fire serves as a community gathering place rather than a home hideaway. Whether or not you listen to your mayor's best warning, be careful out there. And who knows, maybe your city is switching to a burn-free alternative to fireworks. If you're going to a drone show tomorrow, we're dying to know if it packs the same patriotic punch. Drop us a line to let us know how it compares: [email protected]
Burning thoughts
Redesigning the fire truck for slimmer city streets
The uncomfortable politics behind the history of urban fires
The incendiary states of America: Wildfires, mapped
Fire escapes are evocative, but mostly useless (The Atlantic)
Summer Icon: The Grill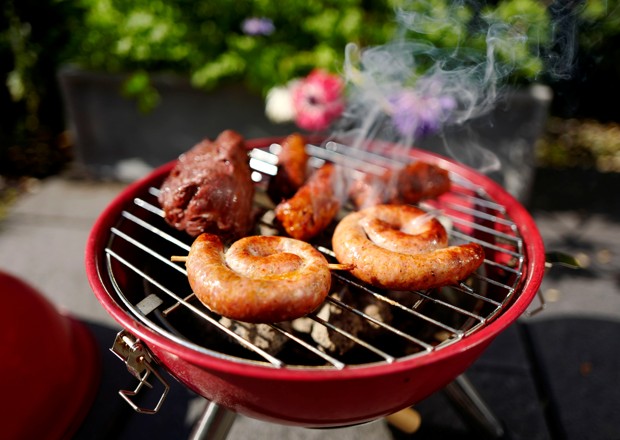 Summer is peak grilling season, but its legality for city dwellers is conspicuous, as open-flame cooking runs up against close-quarters living. Back in 2015, CityLab examined whether you can grill on your apartment balcony, and while the International Fire Code set a clear 10-foot rule for avoiding combustible materials, cities otherwise have highly varied rules for grilling.
In New York City, for example, charcoal grills have to stay in terraces or backyards. Electric grills can go on balconies and roofs, though, and propane is a no-go anywhere other than single- or two-family dwellings. But other cities have totally different regulations. Another option is to use a public park station, but beware of the dangers of the wire grill brush if you want those lines on your brats and burgers.
Significant Digits
$885 million: Amount U.S. consumers spent on fireworks in 2017
7.8 million: Acres burned in last year's wildfires in the United States
$2 billion: New York City Fire Department budget for 2018
66 seconds: How often fire departments responded to a structure fire in the U.S.
1.3 million: Fires reported in the United States in 2016