Hundreds of Honduran migrants are headed for the United States border, just days after Vice President Pence sat down with the Central American country's leader, urging him to take a tougher stance on mass migrations.
At least 1,300 people, including young children, left San Pedro Sula in northern Honduras on Saturday, in what some are calling the "March of the Migrant," Reuters reported.
Bartolo Fuentes, the organizer, told the news agency that the group plans to march through Guatemala and into Mexico. From there, participants will request refugee status, which would allow them to stay in the country, or they will apply for a visa to pass through into the U.S.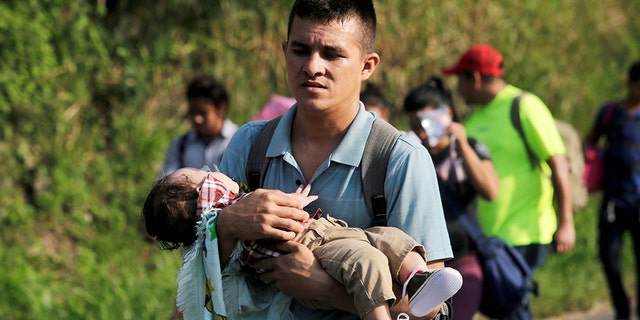 A young man carries a child in the Hondurans' caravan.
The development came just days after Pence met with Honduran President Juan Orlando Hernandez, President Jimmy Morales of Guatemala and Vice President Oscar Ortiz of El Salvador, asking them to step up and help combat illegal immigration in return for help from the U.S.
Pence addressed the three leaders on Thursday in Washington, at the Conference for Prosperity and Security in Central America.
"If you do more, I'm here to say on behalf of the president of the United States and the American people, we'll do more," he said.
Pence said that flows of illegal immigrants from Honduras and Guatemala are up 61 percent and 75 percent, respectively.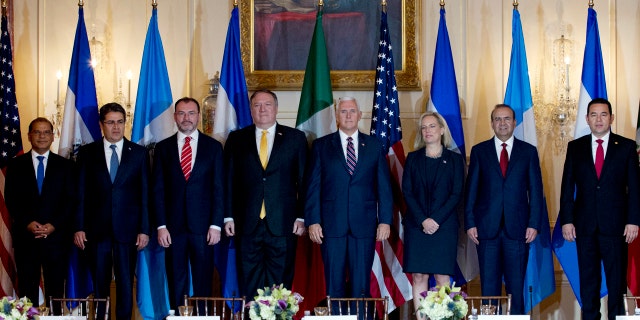 From left; Vice President Oscar Ortiz of El Salvador, Honduran President Juan Orlando Hernandez, Mexico Foreign Secretary Luis Videgaray, U.S. Secretary of State Mike Pompeo, Vice President Mike Pence, Secretary of Homeland Security Kirstjen Nielsen, Mexico Secretary of Government Alfonso Navarrete and Guatemalan President Jimmy Morales pose for a photos before the second Conference for Prosperity and Security in Central America at State Department on Thursday.
(AP)
According to the Reuters report, 64 percent of Honduran households live in poverty. Many of the migrants are fleeing a poor economy and some of the highest crime rates in the world.
Hernandez told Pence he would like more certainty about what to expect from the United States, because the funds requested by the Trump administration are below allocations from previous years.
The Trump administration proposed $460 million in assistance last year, 30 percent less than what Congress approved in 2016 under President Barack Obama.
Mass migrations have become a growing problem at the border. In May, almost 200 migrants from Central America attempted to seek asylum in the U.S. after traveling with a caravan of over 1,000 migrants.