Kellyanne Conway, former White House counselor to then-President Donald Trump, told Fox News Radio she seconded claims from Trump-era official Mike Pompeo that former U.N. Ambassador Nikki Haley was trying to replace Mike Pence on the re-election ticket.
On "The Brian Kilmeade Show," the host asked Conway about the claim purportedly made in Pompeo's forthcoming book.
Kilmeade reported Haley "was scheming" with presidential son-in-law Jared Kushner to replace Pence ahead of the 2020 election.
"That is true that there were people trying to get rid of Mike Pence off the ticket beginning in, like, 2018 or so," Conway said, calling the move a "fool's errand" in part because Pence brought key political credentials among evangelicals and women to the Trump ticket.
"I do just wish that Ambassador Haley had been more strong and more public, more resolute and more public, in just saying, 'Please don't talk about that. We have so much work to do here at the U.N.,' where she was the ambassador for less than two years — and I wish she had just said that," Conway said.
Conway recounted telling Trump that replacing Pence would be a terrible idea, calling Kushner a "political novice" whose purported consideration revealed stark naïveté.
She burnished Pence's credentials as a decadelong former member of Congress on the key Foreign Affairs Committee, his executive experience in Indianapolis as governor and long-held respect among the GOP base.
Conway suggested part of the reason for considerations against Pence was to have him replaced by a woman, saying that Joe Biden did just that to less-than-desirable results.
Nikki Haley (Ronda Churchill/Bloomberg via Getty Images)
"When you have a winning ticket, you stick with it. This whole idea of, 'Let's just get a woman. Get a woman, Get a woman.' You know who did that? One Joe Biden did that," she said, referring to Vice President Kamala Harris.
"He sounds like a frat boy at the end of a keg party in the fraternity: 'I need a woman. I need a woman.'"
"So I'm glad Secretary Pompeo has said this and he's — listen, that is a great American. He's got an unbelievable, wonderful American story, and I wouldn't be surprised if he runs and if he reminds everybody that we had a secretary of state where all these great things were happening: Suleimani, Baghdadi, the Abraham Accords, that other staffers try to take credit for," she said.
Conway said Pompeo has not gotten the accolades he deserves for his work during the Trump years because the former Kansas congressman is too humble to seek plaudits.
She contrasted Pompeo's persona with that of Kushner, who she said is more openly taking credit for things he worked on that turned out successfully for the Trump administration.
In a November 2019 interview with "Fox & Friends," Trump denied such rumors about replacing Pence, calling his running mate "our man 100%."
At the time, he praised both Pence and Haley, thanking the latter for "the most beautiful endorsement you've ever heard."
Trump had a falling-out with Pence following the Capitol riot, where individuals who stormed the building were heard chanting "Hang Mike Pence" because he proceeded with his role of certifying presidential electors.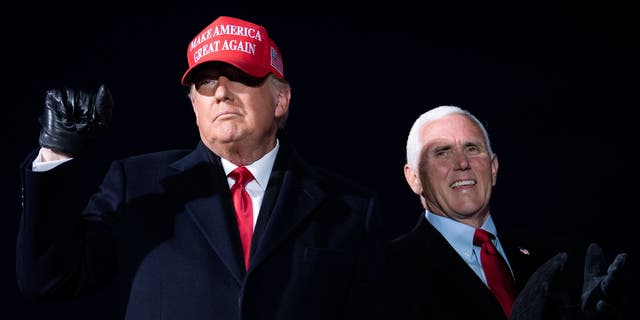 President Donald Trump had a falling-out with Vice President Mike Pence following the Jan. 6, 2021, Capitol riot. (Brendan Smialowski / AFP)
Trump previously blamed his vice president for not using a power critics dispute Pence had at the time to decline certification, with the former president and others citing an 1880s law to that effect as well as the situation involving dueling Hawaii elector slates from the 1960 presidential race.
In a recent interview on "Special Report," Pence said Americans will likely have "better choices" than Trump in 2024, while adding that the real estate mogul was the only candidate who could have defeated Hillary Clinton in 2016.
"[D]ifferent times call for different leadership," he said.
In an interview later Thursday on "Special Report," Haley flatly dismissed claims she sought to extricate Pence from the ticket as "gossip" that she "never said."