ATLANTIC CITY, N.J. – The sun made a brief appearance Wednesday along parts of the East Coast that have seen several days of gloomy weather, but it's going to be short-lived as a high pressure system over Quebec works in conjunction with the remnants of what was once Tropical Storm Ophelia return to bring more heavy rain and coastal flooding to the region.
Commuters and walkers may have had it with the wet weather, but we found one guy who was enjoying it in Pennsylvania, just singing in the rain.
https://platform.twitter.com/embed/Tweet.html?creatorScreenName=foxweather&dnt=false&embedId=twitter-widget-0&features=eyJ0ZndfdGltZWxpbmVfbGlzdCI6eyJidWNrZXQiOltdLCJ2ZXJzaW9uIjpudWxsfSwidGZ3X2ZvbGxvd2VyX2NvdW50X3N1bnNldCI6eyJidWNrZXQiOnRydWUsInZlcnNpb24iOm51bGx9LCJ0ZndfdHdlZXRfZWRpdF9iYWNrZW5kIjp7ImJ1Y2tldCI6Im9uIiwidmVyc2lvbiI6bnVsbH0sInRmd19yZWZzcmNfc2Vzc2lvbiI6eyJidWNrZXQiOiJvbiIsInZlcnNpb24iOm51bGx9LCJ0ZndfZm9zbnJfc29mdF9pbnRlcnZlbnRpb25zX2VuYWJsZWQiOnsiYnVja2V0Ijoib24iLCJ2ZXJzaW9uIjpudWxsfSwidGZ3X21peGVkX21lZGlhXzE1ODk3Ijp7ImJ1Y2tldCI6InRyZWF0bWVudCIsInZlcnNpb24iOm51bGx9LCJ0ZndfZXhwZXJpbWVudHNfY29va2llX2V4cGlyYXRpb24iOnsiYnVja2V0IjoxMjA5NjAwLCJ2ZXJzaW9uIjpudWxsfSwidGZ3X3Nob3dfYmlyZHdhdGNoX3Bpdm90c19lbmFibGVkIjp7ImJ1Y2tldCI6Im9uIiwidmVyc2lvbiI6bnVsbH0sInRmd19kdXBsaWNhdGVfc2NyaWJlc190b19zZXR0aW5ncyI6eyJidWNrZXQiOiJvbiIsInZlcnNpb24iOm51bGx9LCJ0ZndfdXNlX3Byb2ZpbGVfaW1hZ2Vfc2hhcGVfZW5hYmxlZCI6eyJidWNrZXQiOiJvbiIsInZlcnNpb24iOm51bGx9LCJ0ZndfdmlkZW9faGxzX2R5bmFtaWNfbWFuaWZlc3RzXzE1MDgyIjp7ImJ1Y2tldCI6InRydWVfYml0cmF0ZSIsInZlcnNpb24iOm51bGx9LCJ0ZndfbGVnYWN5X3RpbWVsaW5lX3N1bnNldCI6eyJidWNrZXQiOnRydWUsInZlcnNpb24iOm51bGx9LCJ0ZndfdHdlZXRfZWRpdF9mcm9udGVuZCI6eyJidWNrZXQiOiJvbiIsInZlcnNpb24iOm51bGx9fQ%3D%3D&frame=false&hideCard=false&hideThread=true&id=1707104064977166373%3Fs%3D20&lang=en&origin=https%3A%2F%2Fwww.foxweather.com%2Fweather-news%2Fnortheast-mid-atlantic-coastal-flooding-ophelia&sessionId=51349720ab8ae46c6af0f260f44b5c36a04c50f8&siteScreenName=foxweather&theme=light&widgetsVersion=aaf4084522e3a%3A1674595607486&width=550px
The renewed rain is only adding to the nearly five days of wet weather in places like New York City, Providence, Rhode Island and Atlantic City, New Jersey.
But rain isn't the only concern as the weather again takes a turn for the worse. Strong onshore winds will trigger more coastal flooding, coming on the heels of days of heavy surf pounding the shores from the mid-Atlantic to the Northeast since Tropical Storm Ophelia made landfall in North Carolina last Saturday.
Coastal low slaps East Coast with more rain, flooding
"Unfortunately, the rain is going to return," FOX Weather meteorologist Britta Merwin said. "It's back for the end of the workweek into the first half of the weekend."
Two weather systems combine to bring a soggy, blustery end to the week
After it has been meandering off the East Coast for days, the remnants of Tropical Storm Ophelia will head back to the north and once again bring rain to coastal areas from southern New England to Virginia on Friday.
The rain could be heavy at times, which could lead to minor flash flooding as the ground has been so saturated recently that it simply cannot support much more rain.
Generally, the FOX Forecast Center expects about an inch or two of rain for most areas, but much of it could come in a short period of time. There are also parts of eastern Pennsylvania, including the Philadelphia area, that could see higher rain amounts of 2-3 inches. Some locally higher amounts are also possible.
Wind will also be an issue along the coast, with winds gusting to around 30 mph in many areas. Those winds, along with the rough surf and high tide, could lead to more coastal flooding in areas that have already experienced it.
Coastal flooding is expected from the Carolinas to the Jersey Shore in the days ahead, and some locations could even reach major flood stage, resulting in water inundating streets and neighborhoods closer to the shoreline.
One of those places is Charleston, South Carolina, which already saw flooding as Ophelia neared the coast last week.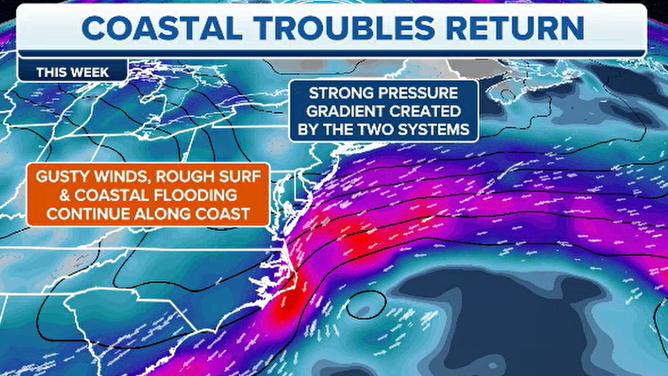 ower outages could also be a concern as another round of rough weather kicks up.
"Wind is at least going to be some sort of issue on the ground, as we know because it has not stopped raining. Hardly, anyway," said FOX Weather meteorologist Adam Klotz. "The ground is saturated, so winds could very easily take down a couple of trees and take down power lines. Power outages could be an issue as you're looking at winds 20, 30 mph."
Full Supermoon only to make flooding problems worse
The flooding is only expected to be enhanced by the upcoming full Moon – the final Supermoon of 2023. The other two Supermoons occurred in July and twice in August. The full Moon leads to higher tides than normal because it's at its closest point to Earth.
The Supermoon only makes the tides run even higher.
Flood alerts are in effect up and down the East Coast from the mid-Atlantic to the Northeast. Coastal Flood Advisories are in effect in southern New Jersey, including Atlantic City, and the state of Delaware.
Coastal Flood Warnings remain in effect in the Chesapeake Bay, including areas along the coast in Virginia and Maryland.
But some good news: The sun may begin to make a reappearance on Saturday after the storms begin to clear, and a gorgeous day is expected in most areas at the end of the weekend on Sunday.
Source: Fox Weather