Paul Blackburn was scheduled to make another minor-league rehabilitation start before rejoining the A's.
But you already might consider the right-hander fully recovered.
Forced into an early return from a strained right forearm, Blackburn gutted through six innings, and knowing he couldn't go further, his teammates rewarded him with the go-ahead runs in the bottom of the sixth to make him the winner in a 4-1 victory over the Royals on Thursday night at the Coliseum.
"When a guy performs like that, you always want to score some runs for him," manager Bob Melvin said. "Usually when they see me shake his hand, they know he's coming out of the game.
"I'm not saying it's added incentive. You want to score every inning, but when a guy comes back and pitches for you in that fashion, you do want to reward him."
The A's started a 10-game homestand by feeding off Blackburn's effort to move a game above .500. The righty, who was making his first big-league start of the season, needed only 67 pitches (52 strikes) to breeze through six innings — allowing one run on three hits.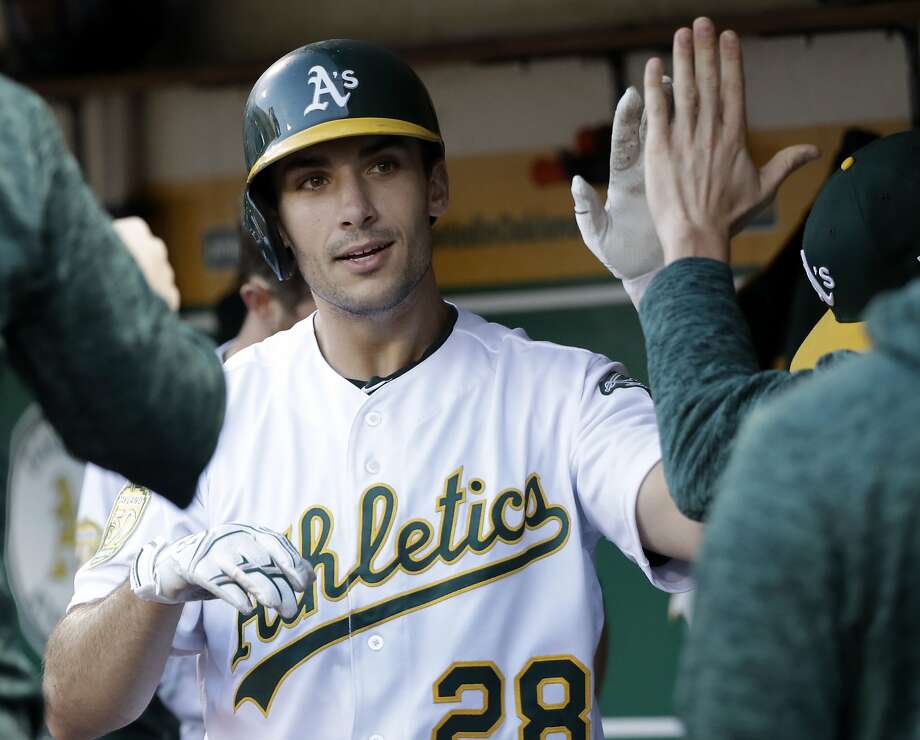 The A's 10th starting pitcher this season retired 11 of the final 12 batters he faced after giving up Alcides Escobar's solo shot, which just sneaked over the left-center-field scoreboard. In typical Blackburn fashion, he recorded 11 groundball outs and three strikeouts.
Blackburn said he was so nervous that he hadn't eaten in 48 hours, but for most of the night, the most difficult thing he had to do was try to match the performance of Kansas City starter Jason Hammel.
Hammel, who entered the game having thrown 65.5 percent first-pitch strikes this season, took pounding the strike zone to another level against the A's. His first 14 pitches were strikes, and he didn't throw a third ball outside the zone until his 26th pitch of the game.
By then, he had successfully gone through the A's lineup once and was midway through the at-bat that produced the second out of the third inning.
Matt Olson finally made Hammel work a little bit in the fourth inning, fouling off four pitches before sending a moon shot into the right-center-field bleachers to tie it 1-1. Olson was also the man who worked the first and only walk against Hammel, putting guys on first and second in the sixth and setting the stage for a barrage of hits.
Matt Chapman launched one into the swirling winds of center field, and Paulo Orlando, who was recalled Thursday, misplayed the flyball into a run-scoring double. Marcus Semien followed with a single to left that scored Olson, and Stephen Piscotty singled to left to bring home Chapman for a 4-1 lead.
Piscotty's hit also saved the A's from some unwelcome history. The right fielder's single was the A's eighth hit of the game, snapping a streak of 12 home games with fewer than eight hits. The last team to have a string of 13 such games was the Chicago White Sox, who ended up doing it 14 straight times in 1910.
Chapman, Semien and Piscotty — the Nos. 5 through 7 hitters — combined to go 7-for-11 with three RBIs, but the story of the game was the A's pitching, as three relievers each put up a scoreless inning after Blackburn departed.
Blackburn went on the disabled list with a strained right forearm toward the end of a disappointing spring training (0-3 with a 6.75 ERA). After getting smacked around for three runs on eight hits and a walk in 32/3 innings during a rehab start for Class A Stockton on May 31, he was supposed to get a start for Triple-A Nashville this week.
Instead, a bevy of injuries to the big club's rotation prompted Blackburn to the Coliseum mound — a place where he looked right at home.
And, completely healthy.
"Six innings, I didn't expect that," Melvin said. "… Man, it looked like he was way ahead of where we thought he'd be."