A slow-moving thunderstorm soaked northern Santa Fe County on Monday evening, sending emergency crews scrambling to deal with flooded roadways and arroyos, while Public Service Company of New Mexico worked to restore electrical power in parts of the area.
Amid reports of more than 3 inches of rainfall in some spots, a Santa Fe County Sheriff's Office spokesman said he had no reports of serious accidents or injuries as of about 9 p.m. Monday.
However, a radio dispatcher said both city and county law enforcement officers and emergency personnel were out walking areas affected by extreme flooding, helping to put out sandbags and clearing debris from roadways.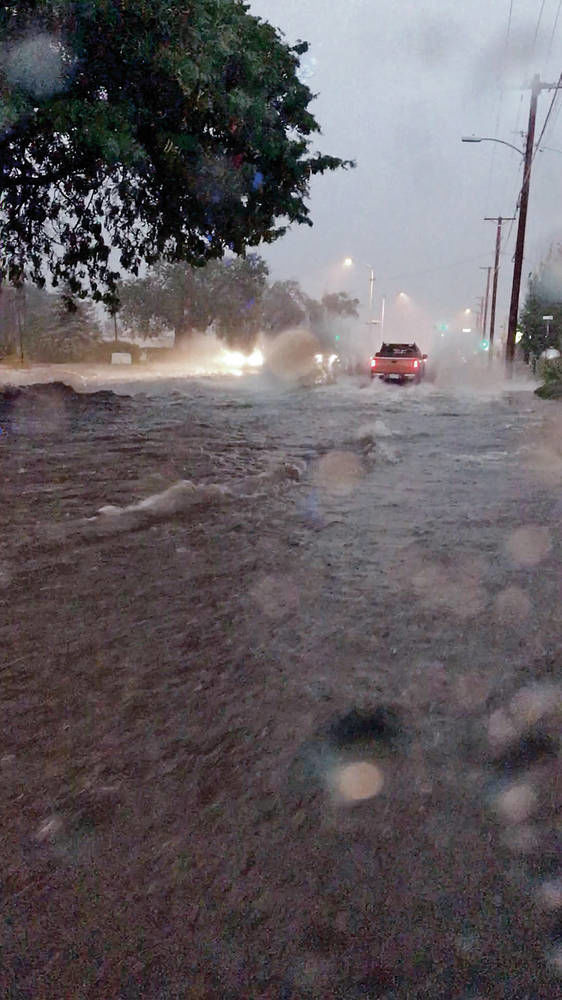 In a statement late Monday, Santa Fe Mayor Alan Webber said city first responders had been involved in several rescue efforts and warned residents to stay inside.
"We know Santa Feans' homes and businesses have already sustained damage. City crews are out doing what they can to reduce the damage, and many will be out all night," Webber said.
Flood debris forced sheriff's deputies to close Richards Avenue south of the city, between Avenida del Sur and Chile Line Road, until crews could clear the roadway, sheriff's spokesman Juan Rios said.
A dispatcher said fast-moving storm runoff affected major traffic arteries in the city, such as Cerrillos Road and St. Francis Drive, as well as Cerro Gordo Road on the city's east side.
A video posted on Facebook showed first responders helping women out of a car after it became stalled in swift-flowing water on Cerrillos Road near Second Street. Another showed floodwaters in front of the Tesuque Village Market.
Among neighborhoods where storm runoff caused temporary havoc were areas south of Siringo Road, where a resident of Practilliano Drive reported a concrete wall was wiped out and a nearby arroyo overflowed.
Webber said residents can call the city's constituent services team at 505-955-6949 for cleanup information and assistance.
Power outages listed on a PNM website indicated thousands of customers were affected beginning about 7:15 p.m., including a number of reports west and southwest of the downtown area, including an area on the far west end of West Alameda, as well as a cluster of reports around Old Pecos Trail. In most cases, the utility estimated it would have power restored within a few hours.
The National Weather Service said more rain is likely throughout the week.