The campaign to secure abortion rights in Florida and create a haven for access in the South is facing a tough road to success. To build a winning coalition, rallying support from the state's Hispanic voters will be crucial. 
A proposed ballot measure, backed by a coalition of reproductive rights groups under the banner Floridians Protecting Freedom, would guarantee the right to an abortion until fetal viability. Backers are racing against time to get a million Florida voters to sign a petition to say they want it on the ballot. Then they must rally 60 percent of the vote in the November 2024 elections — the threshold to change the state constitution. 
The campaign will have to navigate the erosion of support for Democrats in the state and overcome Republicans' grip, which led to the six-week abortion ban signed into law by Gov. Ron DeSantis last spring.
None of that is possible in this state without engaging Hispanic voters, who make up more than a fifth of the state's electorate and who swung toward the GOP in 2022.
The task will require the kind of extensive grassroots organizing and culturally competent Spanish-language messaging liberal campaigns in Florida have been lacking for years, experts and grassroots advocates told The 19th. Based on recent elections and ongoing efforts to hamper the campaign, it's clear that conservative anti-abortion activists will not readily cede any ground on Hispanic voters.
"We're working on this ballot initiative, and there's a whole group of folks that we're historically not getting to because we're not talking to them in Spanish or in a way that resonates," said Charo Valero, who is spearheading efforts to reach Spanish-dominant Hispanic voters in Florida for the campaign backing the amendment. "It's become the perfect urgency to do something that has suffered from a lack of infrastructure, lack of investment and lack of leaders for a long time.
"This ballot initiative is the only thing giving me hope in the state of Florida."
Valero's work is focused on training Spanish-speaking volunteers to engage with Hispanic voters. The team is holding biweekly meetings of 20 to 30 supporters they hope can become "deep canvassers" by the fall, ready to have one-on-one conversations about the implications of abortion restrictions on a family's ability to make medical decisions. Right now, they are helping collect signed petitions to put the measure on the ballot.
Valero is based in Miami, where a red wave led by DeSantis flipped this former Democratic stronghold decisively toward the GOP in 2022.
"We're doing trainings on the rules of petition [collection]. And then we're also doing trainings on como hablar del aborto," how to talk about abortion in Spanish, said Valero, who is also the Florida state manager for the National Latina Institute for Reproductive Justice.
"There are a lot of questions still, but the message that's been resonating a lot with people is opposing political interference on this issue."
National polling shows that a majority of Hispanic voters believe abortions should be legal in all or most cases; one survey by the Pew Research Center following the Supreme Court ruling that ended federal abortion rights put support at 57 percent.
But Valero pointed to the Axios-Ipsos Latino Poll that found that twice as many Latinx people who spoke only English at home (63 percent) versus those who spoke only Spanish at home (29 percent) believe abortion should be legal. She found the gap alarming and said it should prompt reproductive rights advocates to question how they are engaging these voters and sharing information that can combat mis-and disinformation about the procedure.
Polling shows that three-quarters of voters oppose the state's six-week abortion ban, including the majority of Republicans and independents. Assuming activists get the measure on the ballot, passing it — convincing voters to take power on abortion policy from state lawmakers and enshrine reproductive rights in the state constitution — will take engaging voters across the political spectrum.
Eduardo Gamarra, a politics professor at Florida International University in Miami, said that Democrats in Florida have not been successful at turning signs of support for reproductive rights into votes at the ballot box — even as the Dobbs decision boosted many Democrats in other states in 2022. By contrast in Florida, DeSantis was reelected resoundingly after signing the state's 15-week abortion ban. Gamarra said Democratic strategists have asked him about what messages on abortion and reproductive rights may resonate with different communities of Hispanic voters in Florida.
"Certainly some of the messaging that's been used recently has not worked, has not been too effective," Gamarra said.
Abortion in the lens of civil rights and oppression, he said, has not particularly resonated with voters who identify more with the notion of achievement and the American Dream, and may have fled violence or political instability.
Alejandro Berrios, the founder of the grassroots voter registration group Mi Vecino and formerly a regional field director for the Biden campaign, had harsher words.
"Democrats in Florida do a poor job of messaging, which will shock nobody," he said, dismissing comments by party leadersabout disinvestment by donors in the state powering GOP victories.
"Florida isn't a place where we have more time left for excuses."
Mi Vecino was among the groups impacted by a new Florida law signed by DeSantis that bans people who are not U.S. citizens from handling voter registration applications, subject to a $50,000 fine per interaction. A large share of Mi Vecino's staff are permanent U.S. residents or protected by the Temporary Protective Status program — hurting Mi Vecino's voter registration efforts.
They could still, however, collect signatures for the abortion rights ballot measure. In the past month, the group has gathered more than 1,400 signatures and engaged 6,000 voters on the proposed referendum.
Berrios said his team members are going back to the same voters they helped register in past cycles to talk about the implications of the initiative for their freedom to make personal decisions. They also reach out to voters during events at local parks or outside the Bravo Supermarket, a Hispanic grocer. Those conversations, he said, are always had by a team member who is bilingual or speaks Spanish exclusively.
"We talk to voters about politicians making decisions for us and intruding in our lives and us having the freedom to make decisions for ourselves around health care, and other issues that impact our families," Berrios said.
"Naturally, we end up getting into the meat and potatoes of the initiative. But we already start from a place of agreement — that we don't want politicians deciding things for us. And this is a message that strongly resonates with Latinos."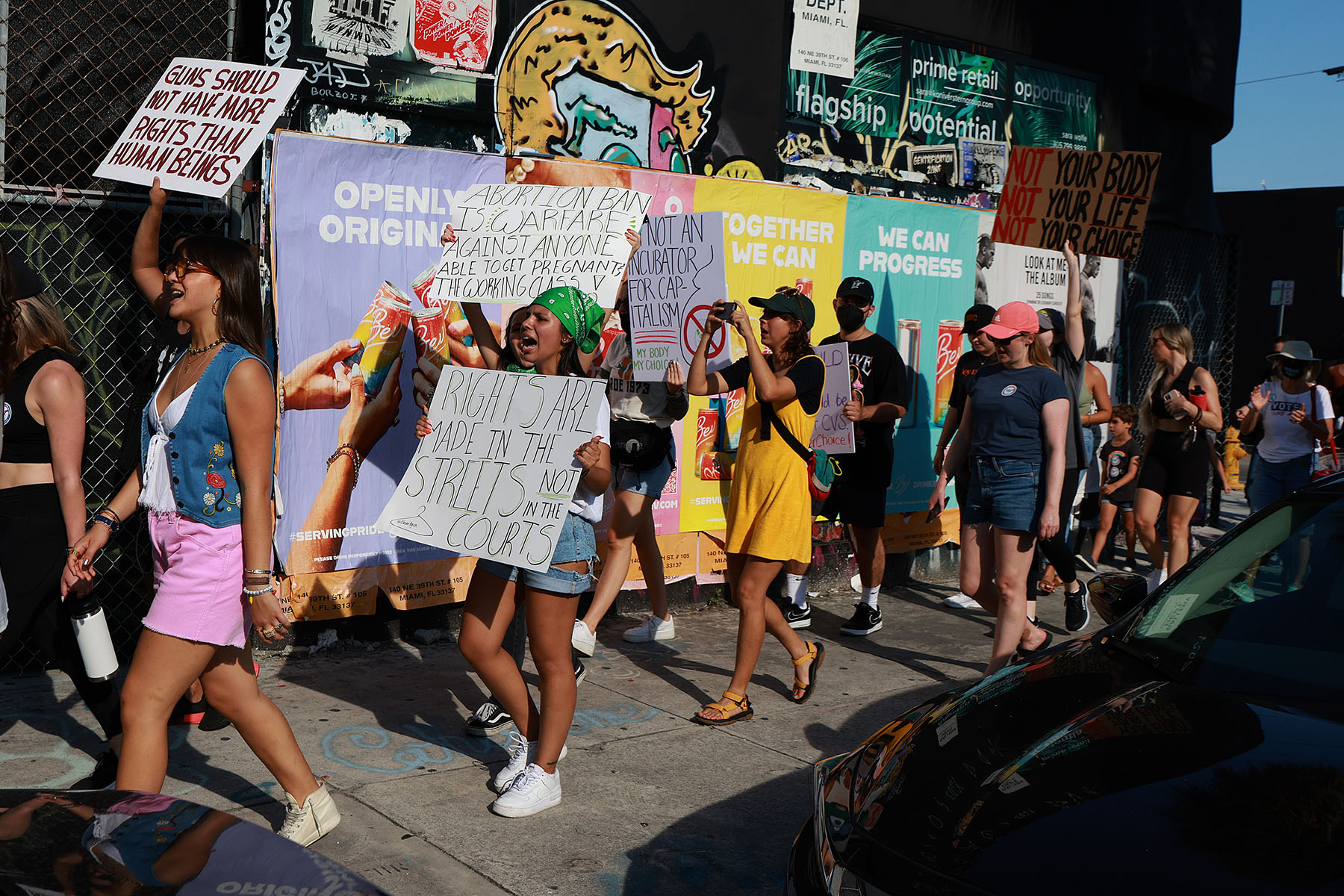 Devon Murphy-Anderson, who co-founded Mi Vecino alongside Berrios and worked as senior staff member at the Florida Democratic Party, said their team has found fewer differences of opinion among Hispanic voters by country of origin and age than by gender.
Women, she said, are much more likely to say that they support the ballot initiative because it enshrines exceptions for rape, incest and cases where the health of the pregnant patient is at risk. Florida's 15-week abortion ban – which is still effect until a court rules on its legality, which could allow the six-week ban to take effect – does not include exceptions for cases of rape or incest.
Valero was open about some of the limitations she faces. Many Hispanic voters, including in her own family, may not want to openly talk about abortion — or even use the word aborto. Efforts to translate American abortion debate jargon such as "pro-choice and pro-life" to Spanish are confusing and futile. Instead, she said, her team is focused on starting and ending the conversation in Spanish, with language that works best for the specific community she's talking to. If the Spanish messaging is just a translation, it is an afterthought, Valero said.
"There's a short-term Spanish messaging to secure abortion in the Florida constitution through the ballot amendment next November. And then there's also just a long-term project about how to talk about abortion and destigmatize abortion in Spanish," Valero said.
"Have we figured it out? No," Valero said. "But I'm optimistic we will. Abortion bans are unpopular and anti-democratic. Punto" — period.
What will ultimately resonate with voters, Gamarra said, is still an open question. Gamarra, through FIU, is working on a national survey of Hispanic voters and abortion that will include a close look at voters in Florida. The survey, expected in August, aims to gauge their opinion on a range of specific abortion restrictions championed by Republican leaders. Importantly, Gamarra said, the survey is also trying to gauge to what degree respondents have been targeted with disinformation, such as that Democrats support laws that allow abortions after birth — a line used often by Republicans and anti-abortion activists.
From its public launch in May, which came later than observers had expected, the campaign has been racing against time to collect about a million signatures by February to make the 2024 ballot. The coalition has raised about $5 million to boost its work and reported being halfway to its signature goal last week. After reaching that, the campaign would need to clear its proposed language by the Florida Supreme Court, where it expects to face legal challenges by Republicans to keep the measure off the ballot.
Right now, the campaign is facing anti-abortion activists trying to block the measure on the ground. Next month, The Leadership Institute, a Virginia-based group that trains right-wing politicians and activists, is holding a free "campaign kick off training" in Kissimmee, Florida, just outside of Orlando. The free training will focus on blocking Florida's reproductive rights ballot initiative, including how to communicate with moderates and liberals, according to a flier for the training.
Adianis Morales, a regional field director for former President Donald Trump's 2020 campaign and one of speakers slated for the workshop, said she and her husband have spent years visiting Florida churches and canvassing community events, "telling people how to vote according to Biblical values, and how to speak to their congregations so their congregations will vote according to political values." They have fliers in Spanish with conservative positions on cultural issues; one version has Bible verses, another is for secular voters.
Morales is Puerto Rican and is an associate pastor at Nacion de Fe, a Hispanic church in Kissimmee that will host the August workshop and where DeSantis signed his 15-week abortion ban.
At churches, Morales talks with potential voters about abortion, giving them details about the medical procedure and what she sees as God's commandments. "If you decide after we gave you this information and we educated you," to not support anti-abortion efforts, "you're in rebellion. And I leave it there."
She sees conversations about abortion prompting people to switch to the Republican Party.
"Abortion actually is the issue that most people change their party affiliation when we talk to them," said Morales, who ran unsuccessfully in the GOP primary to challenge Democratic Rep. Darren Soto in Florida's 9th Congressional District.
Morales said she wants workshop attendees to learn how to approach people collecting signatures for the reproductive rights ballot measure and record the interaction. If the signature collector misrepresents the measure, Morales said, opponents of the measure can move to have the day's signatures invalidated.
She said she hopes to partner with other churches and venues to hold other workshops in Orlando, Miami, Tampa and elsewhere.
Gamarra said the abortion rights campaign in Florida will likely focus much of its energy on about 40 percent of the Hispanic electorate in Florida that doesn't identify as either Catholic or evangelical Christian. At the same time, he said, reproductive rights advocates in Florida shouldn't discount voters who have some religious affiliation: They represent a growing share of voters exactly where Democrats are bleeding them. The Religion Census found that the share of religious adherents grew in 49 of the 67 counties in Florida from 2010 to 2020. Of the 16 counties in the U.S. with at least 2 million residents, just one saw the percentage of religious adherents grow more than 10 points: Miami-Dade.
It's worth noting that 61 percent of Hispanic Catholics said abortion should be legal in all or most cases, according to a survey by the Public Religion Research Institute published in February. The same survey found that 54 percent of Hispanic Protestants believe abortions should be banned in all or most cases — recording the fourth-highest rate of anti-abortion views among religious groups, behind White evangelicals, Jehovah's Witnesses and Latter-day Saints.
The campaign's ground game will also need to pay close attention to Hispanic voters who are disillusioned with both parties.
Florida Republicans hold a voter registration advantage over Democrats, 37 percent to 33 percent, according to fresh data published by state election officials July 14.
There are about 4 million unaffiliated voters in Florida right now — about 28 percent of all registered voters, a group that's been growing in Florida and that Berrios anticipates will overtake Democrats in the coming years save a drastic change in course.
Among Hispanic voters, Berrios said, that shift has already happened. Earlier this year, Hispanic voters who were registered as having no party affiliation overtook the share that listed Democrats as their party of choice.
Mi Vecino's efforts right now are focused on the I-4 corridor that links Tampa and Orlando in Central Florida, home to a sizable share of the state's Hispanic population.
The area has been a stronghold for Democrats bolstered by Puerto Rican voters, who have historically swung heavily toward Democratic candidates. But Republicans have been making inroads with these voters for years. Berrios attributed some of that to moves by state Republicans to make it harder to register and vote, but also placed blame at the feet of the Democrats.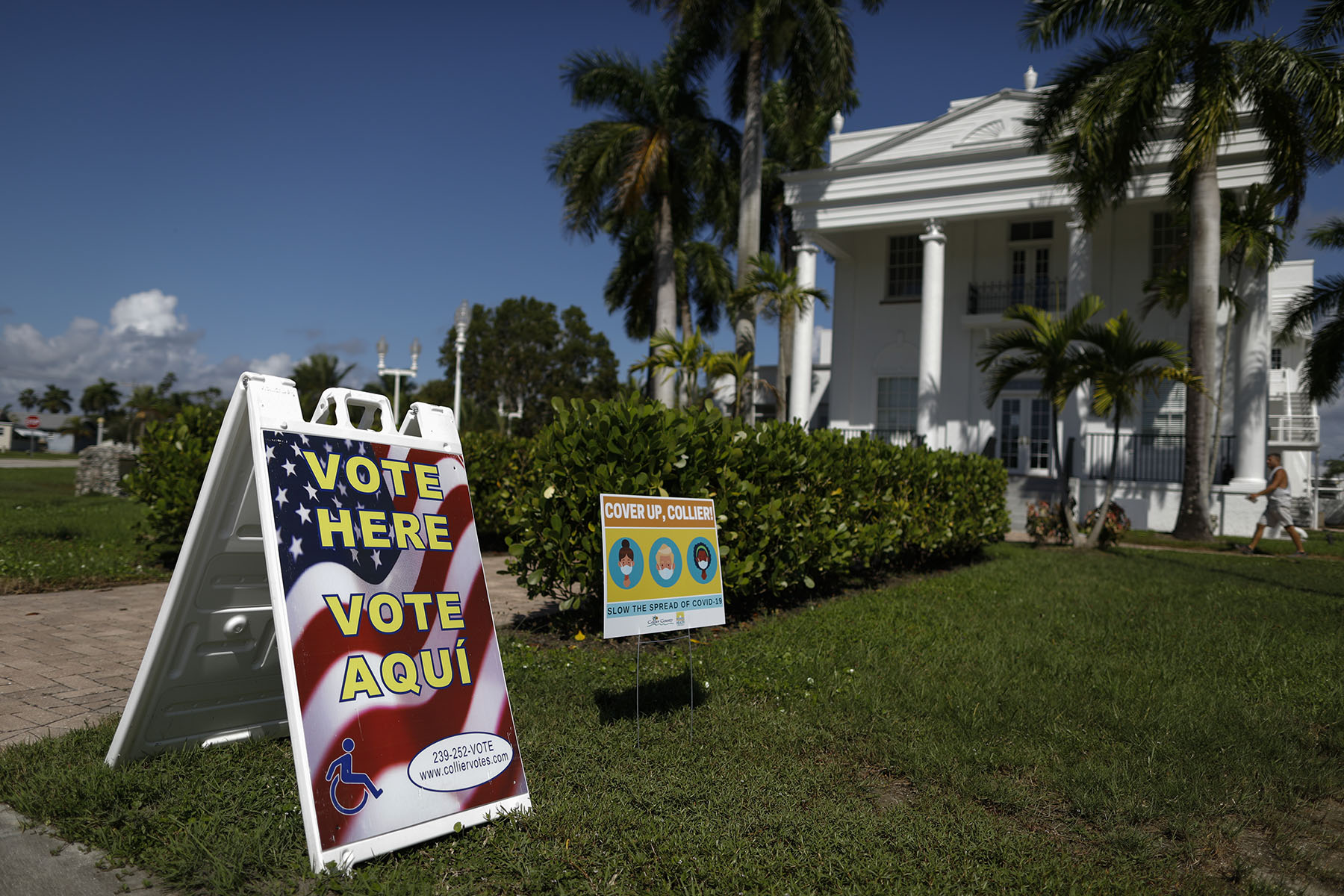 "Just the party itself — it's not seen as relatable and it's out of sync with the community, especially Latinos," Berrios said. "And still, the path to victory for those that support this amendment is there. It's just not going to fall along strict partisan lines. We have to be strategic about who we talk to, how we talk to them and make sure we build a broad coalition of support."
Berrios said that unlike efforts to raise the minimum wage or restore voting rights to people convicted of felonies, which had ample support among the communities they've been engaging with since 2021, the reproductive rights measure requires personal and nuanced conversations that go beyond digital or social media campaigns.
"This is an issue that people bring their faith view and their world view to their political view. So it's much less certain that this is going to pass without a really concerted effort."
Devon also pointed to young Hispanic voters as a growing segment with ample room for a reproductive rights message. Mi Vecino surveyed 600 unaffiliated voters aged 18 to 35 in four swingy congressional districts currently represented by Democrats. They found that the majority – 53 percent —don't support DeSantis' six-week abortion ban. More interestingly, 27 percent had no opinion or felt that they didn't have enough information.
"A takeaway here," Devon said, "is that a lot of folks crafting strategies around large initiatives like this view abortion as a very polarizing issue. What we see is that, specially for young voters in this demographic, there is a movable middle. We can get past that 60 percent if those voters are targeted and engaged with in a meaningful way with culturally competent messaging."
Source: The 19th News