The U.S. boom won't be enough to stop the rest of the world economy from slowing.
Finance ministers and central bankers head to Indonesia next week for the International Monetary Fund's annual meeting, with the lender signaling it will cut its global growth forecasts for the first time in two years after the best upswing since 2011.
That's despite data from the world's largest economy on Friday showing that the jobless rate fell to a 48-year low, justifying Federal Reserve Chairman Jerome Powell's description of it is as enjoying a "particularly bright moment."
Activity elsewhere is weakening, in part because of higher Federal Reserve interest rates, and President Donald Trump's trade war with China. Global manufacturing is growing at the weakest pace in almost two years and exports shrank last month for the first time since 2016.
"The U.S. may be booming but the global economy is starting to slow," said Janet Henry, chief economist at HSBC Holdings in London.
The trade war is raising the biggest red flag. In the past few weeks alone Panasonic Corp., Ford Motor Co. and BP Plc have all highlighted the dangers of the escalating tensions, and those worries are starting to filter through into the broader economy.
Emerging market stresses from Argentina to Turkey, political uncertainty in the U.K. and Italy, and rising oil prices are among the other threats. While there's no sense of growth coming to a halt, the crystallization of risks means the synchronized expansion of last year is a fading memory.
"Six months ago, I pointed to clouds of risk on the horizon," IMF Managing Director Christine Lagarde said this week. "Today, some of those risks have begun to materialize."
HSBC this week lopped its forecasts for 2019 world growth, mainly prompted by a downgrade for emerging nations struggling with the rising dollar. It lifted its U.S. growth prediction for this year to 3 percent and for next year to 2.5 percent on the back of Trump's tax cuts.
Meantime, Bank of America Corp. economists warned that China's slowing growth will spill over into the rest of Asia in 2019 and drag the region's growth rate down.
"About 50 percent of the value added that's in Chinese exports to the U.S. comes from the rest of Asia," said Fabiana Fedeli, global head of fundamental equities at Robeco. "Clearly other countries will also be impacted if the trade war continued to escalate."
The confluence of factors may be enough for the IMF to trim the forecasts it's maintained so far this year for the world economy to expand 3.9 percent in 2018 and 2019. The fund will update its World Economic Outlook from Bali on Oct. 9. It hasn't revised projections down for a year ahead since October 2016.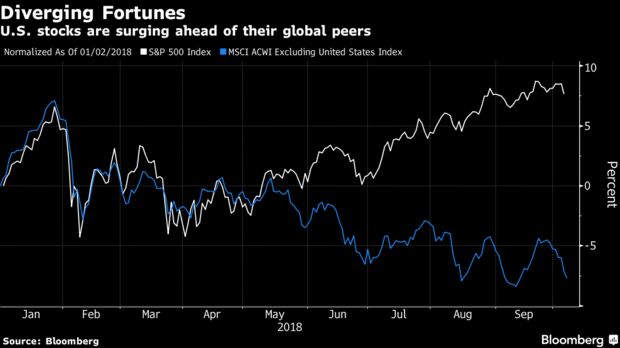 The split between the U.S. and elsewhere is evident in financial markets. The dollar has outperformed all major peers in 2018, while the S&P 500 index has climbed more than 8 percent, versus a drop of 7 percent for a global index that excludes the U.S. Meanwhile, Treasury 10-year notes yield the most relative to Germany's bunds since at least 1989.
But even the U.S. may not be immune. Recent data showed the trade skirmish shaping up as a clear drag on growth last quarter, prompting economists at JPMorgan Chase & Co. and Amherst Pierpont Securities to pare their estimates for expansion.
Another wildcard is return of inflation, with oil threatening to reach $100 a barrel for the first time since 2014 and wages picking up. That would be another price boost on top of any tariff impact, hitting consumer pockets and forcing central banks to act faster.
"Investors appear unprepared for a rise in inflation," Morgan Stanley strategists led by Hans Redeker wrote in a report to clients on Wednesday. "Multiple factors coming together suggest that inflationary pressures are rising."